The European Yoga Festival is starting this weekend and many students, staff and alumni from MPA will be participating. Here's what we have planned:
Sunday, june 29th to saturday, august 4th: come see us at our booth
We'll be at our booth all week long from 5pm to 10pm in the evening (except on Tuesday and Wednesday when we're facilitating our MPA overnight camp at Chateau Anand). Come by and say hi! We'll have raffle tickets available for purchase. There will be tons of prizes, generously donated by the vendors in the bazaar. The draw will be on Saturday, August 4th at 7pm.
Monday, july 30th: evening yoga on sadhana stage
MPA graduates will lead a yoga set under the beautiful setting sun! 7:30pm – 8:30pm on the Sadhana Stage. If there's rain, it will be moved to the Tantric stage. The yoga set will be followed by the healing meditation, Ra Ma Da Sa.
Tuesday, june 31st – wednesday, august 1st: mpa day with overnight at chateau anand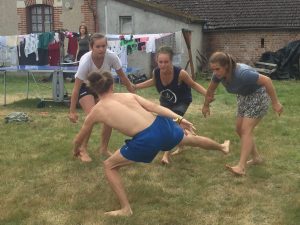 We're following up last year's MPA Day with an overnight camp at Chateau Anand. We have lots of fun activities planned – swimming, canoeing, hiking along with MPA favourites like Bang! and a nighttime game of Tapa. We'll be leaving from the festival at 9am on Tuesday. This is the scheduled activity for teen camp. All teens will be participating.
Wednesday, august 1st: celebration of this year's graduates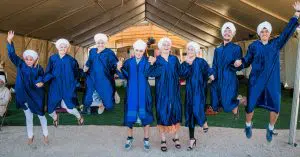 Upon arriving back to the festival from Chateau Anand we'll be celebrating this year's graduates and showcasing their bhangra, gatka and tabla performances. Check in at our booth for more details.
Saturday, august 4th – alumni picnic and raffle draw!
Current students, staff, board members and alumni are welcome to join an Alumni breakfast. We'll be leaving at 10am by bus to a nearby lake to enjoy a picnic and time together in the sun. Bring a bathing suit and towel!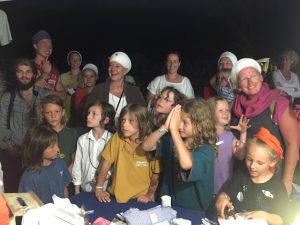 Later that evening we'll be drawing raffle prizes at our booth. You can purchase tickets all week long. Proceeds provide financial aid for our European students. The drawing starts at 7pm and there are tons of prizes.