The MPA program is designed to teach students about the various aspects of health and fitness. Throughout their time at MPA, students learn the fundamentals of healthy living and lifestyle, including food and nutrition, physical fitness, lifestyles and life cycles, mind-body connections and so much more.
Physical Education Highlights
The MPA program recognizes the importance of developing the physical body and its relation to mental wellbeing and academic success.
All students at MPA participate in the physical education program which is designed to encourage a love of physical activity and sport.
Every day at MPA begins with physical education in the form of yoga or physical training. Afternoons are spent playing sports and learning martial arts.
The MPA campus has two soccer fields, two basketball courts, a kabbadi field, a Gatka field, a walking track, outdoor yoga spaces and a large indoor yoga space.
Two physical activities that are unique to MPA and rooted in Punjabi culture are Gatka and Kabaddi.
We have dedicated physical education teachers who are part of the core teacher team, and also welcome specialized teachers throughout the year.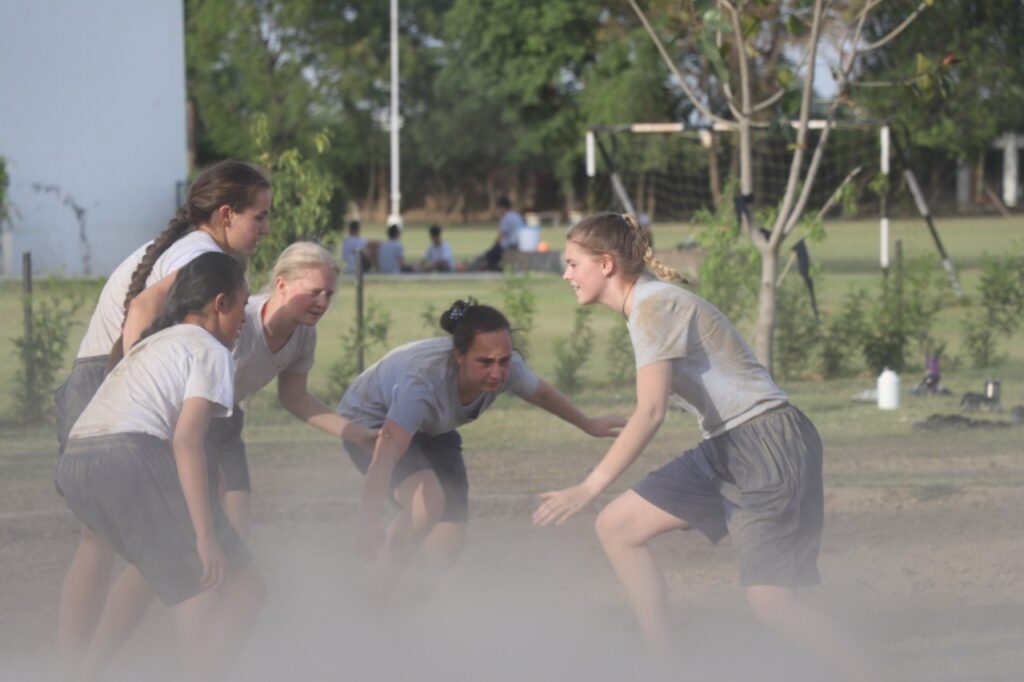 Core areas
Emphasizing control over the body while developing essential attributes such as strength, stamina and endurance. Routines are developed that challenge and improve physical capabilities. Activities like running and basic calisthenics exercises play a pivotal role in achieving these goals.
Kundalini Yoga includes the practice of yogic postures which build strength and flexibility. Combined with pranayama, vitality is increased. Over time, Kundalini yoga aids in the proper alignment of the body and enhanced physical awareness.
Playing a diverse range of sports like soccer, basketball, volleyball, frisbee, and cricket provides students with an opportunity to cultivate a variety of skills, including agility, hand-eye coordination, and strategic thinking. Moreover, sports instill valuable life lessons in sportsmanship and teamwork.
Played on soil, Kabaddi encourages a direct and intimate relationship with the Earth. It not only increases physical strength and agility but also mental and strategic acumen, and spatial and physical awareness.
An MPA favourite. This form of martial arts is embedded in Sikh history and our students feel the privilege and physical benefits of getting to learn this special practice. A highlight for our students is getting to perform their Gatka skills in the Sangat, for example when we participate in Nagar Kirtans.
Practiced once a week, marching is a powerful tool for teaching command and obedience. Coordination, mental alertness and group awareness are strengthened through the discipline of marching.
Bhangra, a vibrant Punjabi folk dance, is a celebration of life, culture, and community. It allows for creative self-expression, as students can infuse their unique style and personality into the performance, making it a delightful blend of tradition and individuality.
Gatka Wars in Anandpur Sahib