Throughout their time at MPA, students participate in our spiritual program that includes Kundalini yoga and meditation, fundamentals of Sikh Dharma, Seva and Gurbani Kirtan. Our students are trained to be Kundalini Yoga teachers and receive a certificate from Kundalini Yoga Research Institute. A highlight of the spiritual education program is our 40-day Golden Temple Parkarma Seva.
Spiritual Education Highlights
Our spiritual education program is a foundational part of our school structure with regular Kundalini Yoga classes and daily meditations for all students and all grades.
Students take Kundalini Yoga Level 1 Teacher Training in grade 10 and 11 and are certified teachers when they graduate.
Visits to Sikh Gurdwaras and historically significant places are incorporated into our curriculum for lived experiences.
Students participate in regular Gurbani Kirtan classes, to develop subtlety and experience the Naad (sound current) as a healing vibration within them.
We incorporate "tuning in" to ourselves throughout the day, including short meditations to start our school day.
Students from diverse backgrounds and religions attend Miri Piri Academy, opening opportunities to expand discussions and learnings about spirituality.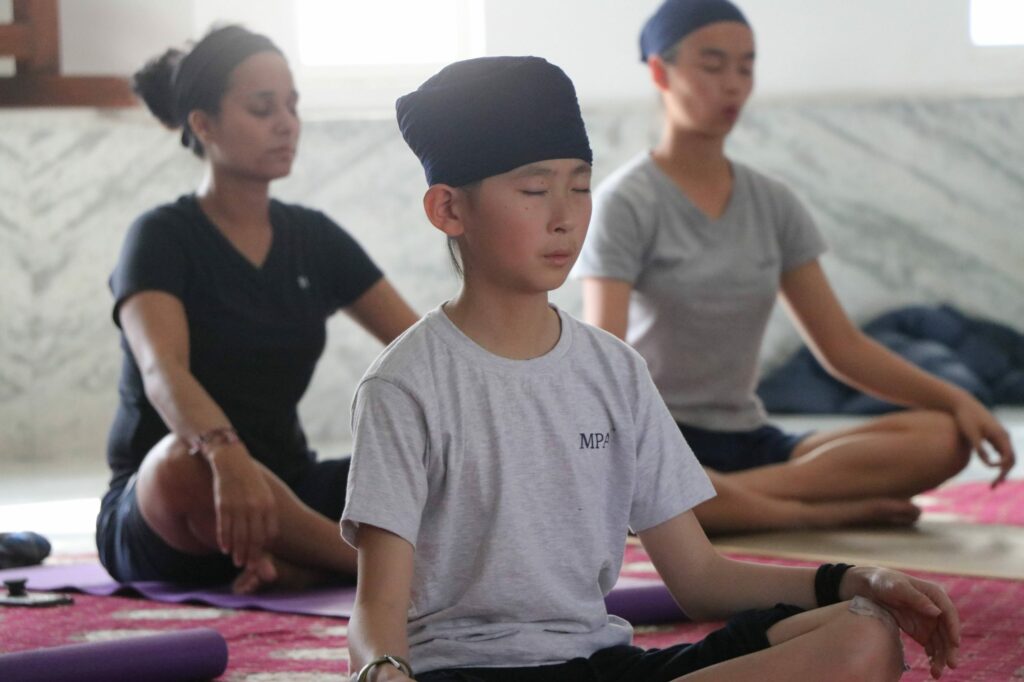 Core Areas
Kundalini Yoga is a fundamental part of education at MPA and has many benefits including promoting health, self-awareness, and mental clarity. Kundalini Yoga kriyas help to build strong nervous systems that enable students to handle the stress of life and enter states of deep meditation.
Students learn how to enjoy and take on leadership roles in the Gurdwara at MPA, deepening their connection with the Siri Guru Granth Sahib and building a relationship to Sangat. They also learn about and experience historical Gurdwaras of significance to Sikh history.
Students learn to volunteer without expecting anything in return (selfless service). They participate in various ongoing initiatives in and around the school. This nourishes the spirit and encourages humility.
A very special practice in which our students help wash the parkarma around the sarovar of the Harmandir Sahib with the local community. This takes place in the Amrit Vela (early morning hours), which is spiritually beneficial.
A unique opportunity to participate with the Sangat in honouring the Siri Guru Granth Sahib. Students demonstrate their skills in Gatka as they walk through the streets of Punjab.
Gems from the profound wisdom of the Siri Guru Granth Sahib are incorporated in the curriculum and practiced during students' time at MPA. Students attend Gurmat classes to gain a basic understanding of Sikh history and lifestyle.
During their time at MPA, students focus on singing and playing various musical instruments like harmonium and tabla to connect with the sacred hymns of Siri Guru Granth Sahib Ji.
Learning principles of a healthy and balanced yogic and dharmic lifestyle, students live in a natural and rhythmic way. Students learn lifestyle teachings that can support mental and physical wellbeing.
The Parkarma Seva Experience