Our Alumni spread the MPA spirit around the globe, and we love welcoming them back on campus. If you are an MPA Alumni and are travelling to India or want to continue your spiritual journey with MPA Continuing Education courses, we have special opportunities for you.
Reasons to Reconnect with MPA
Continue your Spiritual Education
Reconnect with the Sacred Lands of India
Find Your Peers in the Community of Adult Learners
Explore Interesting Topics in Depth with Specialized Teachers
Deepen your Sadhana & Reignite your Spirit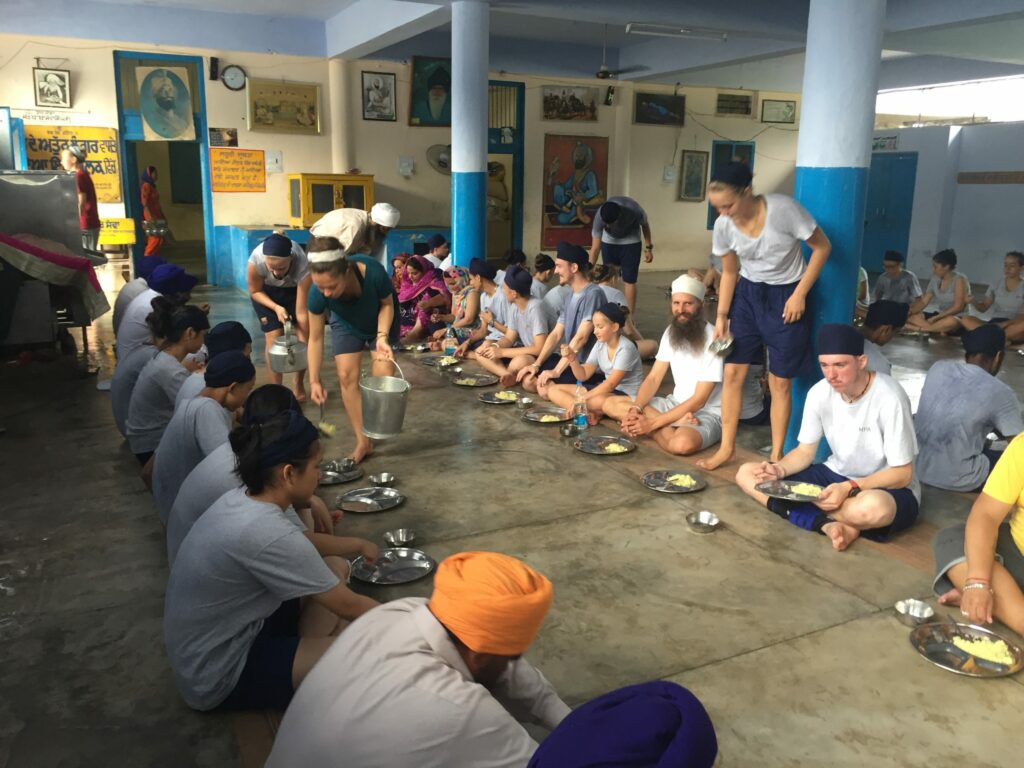 Alumni Discount on Continuing Education Courses
About Continuing Education
MPA Continuing Education courses are a new branch of MPA that will serve the wider international sangat of adults. Held either at Miri Piri Academy or at Dashmesh Sadan, Continuing Education courses offer the opportunity to explore a range of topics in depth.
Continuing Education
Discount
All alumni can receive a $300 discount on all of our continuing education courses, with the exception of the Alumni camp, which is already discounted. To use this discount, please email us at [email protected] and our team will provide you with the  discount code.

Alumni Camp
About the camp
MPA regularly hosts camp dedicated to Alumni. These camps are a fantastic way to gather together, learn from one another, renew old friendships, and make new ones. This year's alumni gathering includes travelling to Dharamshala and Kartarpur in the India-Pakistan corridor.

Alumni Seva Program at MPA Campus
What we Offer
If you're travelling through Amritsar and would like to stay at MPA, please reach out to us. If we're on campus and have a room available, we'd love to have you stay for a couple of days to reconnect with the MPA spirit.
While you're here we welcome you to connect with the school program and participate in before and after school activities.
Miri Piri Academy will provide:
A room on campus
Meals throughout your stay
Pick-up and drop-off services from the airport
Note: Participants are responsible for making their own travel arrangements beyond the airport transfers.
Expectations for Participants
Our campus serves many individuals and groups from our school program, to yatras, continuing education courses and guest teachers. Our accommodation is quite limited. To increase the likelihood of being able to host you on campus, please let us know in advance that you'd like to stay. We'll do our best to accommodate you.
Please note: the school is closed during the summer and certain holidays, and can be fully occupied due to courses.
Participants are welcome to participate in the morning practice sessions and engage in the afternoon yoga or sports activities.
You are welcome to lead or support an activity. If you have something to share, we can work together to see how it can fit into the schedule.
By respecting the guidelines, participants contribute to the harmonious functioning of the community. Participants should refrain from distracting employees, who may also be their friends, from performing their duties. This ensures a smooth workflow and respects the professionalism of the staff.
Alumni are not allowed to enter the dorms where students are staying. This is to protect their privacy and ensure their safety.
Participants are expected to conduct themselves as exemplary role models, embodying the values upheld by Miri Piri Academy. This includes displaying integrity, kindness, compassion, and respect towards others.
Participants should demonstrate appropriate behaviour and cultural sensitivity when interacting with the local community in Amritsar, honouring local customs and fostering positive interactions.
Participants are responsible for communicating any changes or modifications to the agreed-upon schedule or other relevant details to the MPA staff in a timely manner.
Suggested Donation
$15 USD per day
Reach Out To Us
Let us know your plans by emailing