Open to Grades 5 to 12, we have created a well-rounded curriculum that supports the growth of our students academically, physically and spiritually. An education at MPA is synonymous with meditating and self-reflecting, working hard, and sharing with others.
Academic Education Highlights
We offer a Cambridge Assessment International Education (CAIE), UK curriculum taught through learning expeditions, projects and traditional teaching methods.
All students are expected to achieve a minimum of 5 IGCSE and 3 A Level subjects to enable them to obtain a place at a college/university of their choice.
English language immersion classes are provided for those new to the English language, up to Grade 8.
Our students are immersed in term-long learning expeditions that explore, in depth, the world around them.
Expeditions are interdisciplinary, exploring issues from multiple angles and perspectives, leading to deep learning experiences.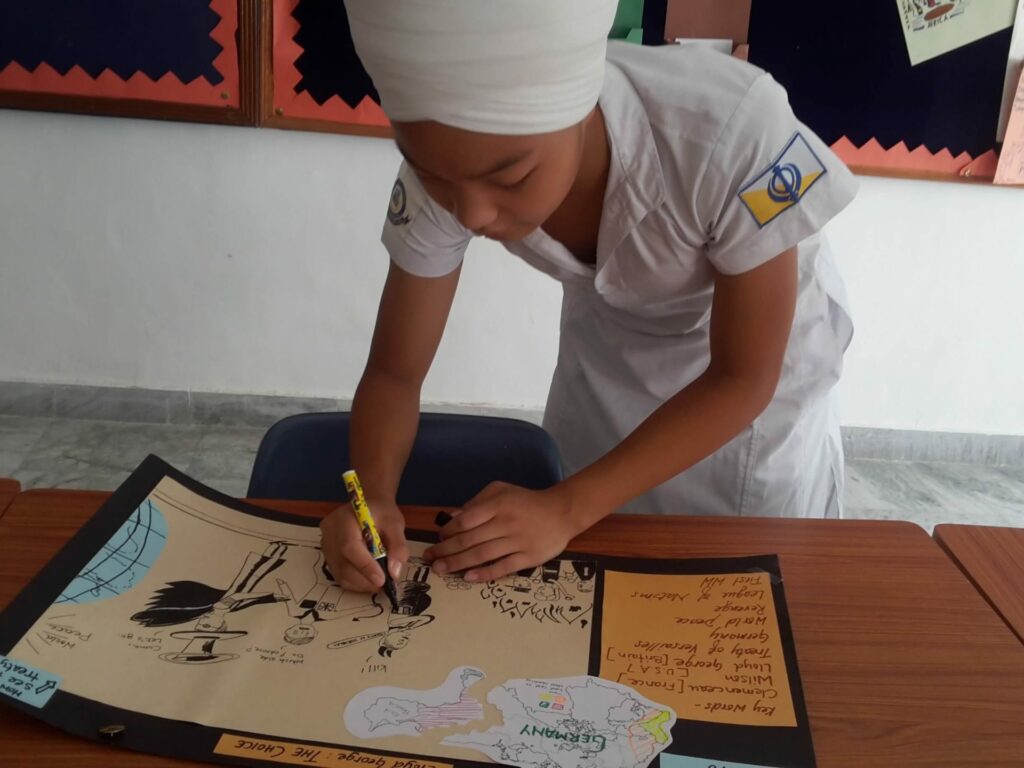 Core Subjects
The English program aims to enhance language and literacy skills, fostering a love for reading through the exploration of both world and Indian literature. In social science and history, students study various disciplines such as geography, political science, religion, psychology, and economics. This broadens their understanding of themselves and the world, promoting place-based learning that connects them to their community. By developing communication and inquiry skills, students learn to engage with any environment and gain insights into their own identities and their role in the world.
MPA's STEM program includes an exploration of a wide variety of subjects including biology, chemistry, physics, environmental science, engineering and math. Students are encouraged both to be curious and learn about the natural world and to explore building and creation. Mathematics is integrated into that learning and also taught through discrete lessons to ensure all standards are met.
The Punjabi curriculum represents an integrated approach to language acquisition. With this approach, reading, writing, listening, speaking, grammar and culture are viewed as interconnected rather than as existing in isolation. Sikh history and philosophy are integrated into the program in order to learn how Sikh lifestyle and understanding can help guide modern life.
Life and career skills are interwoven into the MPA curriculum. We focus on skills such as goal-setting, time management, personal finance, reflection and building authentic relationships. During their time at MPA, students have access to the college counsellor who walks them through the various stages of the college admission process.
The art program at MPA includes visual and digital art, pottery, and ceramics. Appreciation of Indian art is built into the curriculum. MPA students also have the option of choosing to study Gurbani Kirtan or Tabla. There are opportunities for students to actively participate in Gurdwara services.