During their lifetimes, the Sikh Gurus personified the ideal state that human beings could aspire to. We retell their stories and study their words in the hopes that, in time, those same ideals might awaken within us.
One of the most powerful concepts developed by the Gurus came from the time of the sixth Naanak, Guru Hargobind Sahib ji. Guru Hargobind famously wore two swords during his lifetime: one that represented spiritual authority and another that represented earthly sovereignty. We know this concept as "Miri Piri." Miri Piri offers a compelling vision – that deep wisdom can guide earthly affairs. That earthly affairs can reflect the all-embracing love of Ek Ong Kaar where there is no discrimination among people because the same One Light dwells in all.
Yet as beautiful and elevated as the concept of Miri Piri is, our ability as a community to manifest this vision has always been a work in progress.
On Sunday, November 6th, Miri Piri Academy in Amritsar and SikhNet.com will co-host a special talk on The Meaning of Miri Piri by one of the Sikh community's most respected scholars, Dr. Balkar Singh.
Dr. Balkar Singh is a long-time friend of mine. I studied with him when he lived in New Mexico, USA, in the early 2000s. His knowledge of Sikh philosophy and history runs deep. His willingness to bridge the Sikh traditions of Punjab with the modern Western world is courageous. He served for many years as the head of the Siri Guru Granth Sahib Studies department at Punjabi University in Patiala, India. Today, he serves as the Director of the World Punjabi Centre.
This special talk will be hosted on Sunday November 6 at the Miri Piri Academy campus in Amritsar, India and will be live streamed through SikhNet.com. If you are in Amritsar, you can attend in person. The talk begins at 11:30 am Indian Standard Time and langar will be offered afterwards.
To attend onsite, please register here: https://miripiriacademy.classe365.com/form/view/miripirilecturedrbalkarsingh
If you would like to attend the talk virtually, SikhNet will live stream it. You can register to attend the live stream here: https://event.webinarjam.com/register/60/n1kp1f53
Click here to translated IST into your local time zone.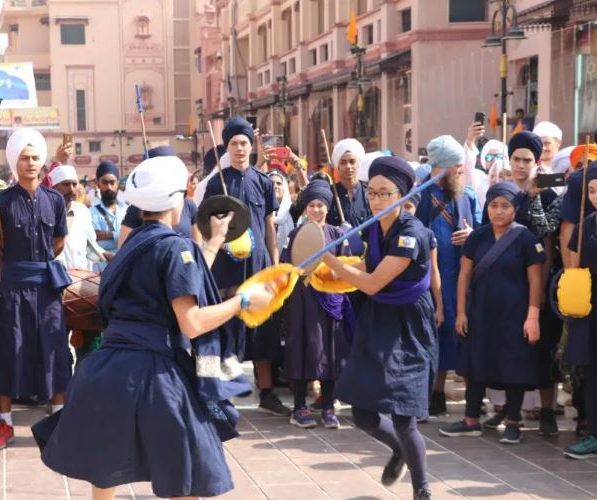 Miri Piri offers a beautiful vision that the best aspects of human consciousness can guide our economical, political and social leadership. In order to give the future generations a chance to manifest this vision, Miri Piri Academy was founded in Amritsar many years ago. The Academy brings together spiritual-minded students of all ages from around the world to study together, develop together and bask in the Golden Light of the Guru's homeland.
We are very honored to host Dr Balkar Singh's talk at Miri Piri Academy. SikhNet.com is grateful to partner with Miri Piri Academy in sharing his talk to the global community.
I personally have loved every lecture Dr. Balkar Singh gave during his time in New Mexico 20 years ago. I hope you will join me in taking this opportunity to hear from one of our most respected scholars. Dr. Balkar Singh's talk initiates the SikhNet Scholar Series. SikhNet.com plans to bring other Sikh scholars to the global community through livestream events in 2023.
May the Guru keep inspiring us towards the highest reality possible, and may His grace keep you in Chardi Kalaa.
With Divine Light,
Ek Ong Kaar Khalsa Michaud
Interim Executive Director, SikhNet.com