Sajeev, Finance Director Miri Piri, a Chartered Accountant by profession, is a self-taught artist. His body of work speaks as a testament to the spirit of a curious learner. It embodies his progress as an artist. The themes that run through his interesting bodies of work are varied: much loved Pondicherry, rural India where he finds his roots, nature – the mother of all inspiration, and faith. Inspired by his experiences, other artists, pictures, travel, and, at times, tutorials, Sajeev shares his journey into art even as he prepares his brushes for his next artistic foray.
Sajeev began by exploring the world of clay. A tactile artist by nature, he still felt the need for something more permanent and moved on to PoP / Plaster of Paris and then on to wood where he discovered his love for the grain and true nature of the wooden medium. Glimpses of this can be seen in his experiments with driftwood. Sajeev's garden and his wife, Madhu Sud's love for landscaping led him to create pieces in a medium of cement. He took his inspiration from totem poles and varied other sources.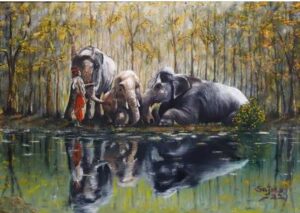 At the turn of the millennium, inspiration struck in 1999. Sajeev began a foray into oil paints independent of any teacher or guide with 'Choupal' inspired by another artist's work. A trip to Santa Fe was key to his journey as it bolstered his confidence when friends from art galleries began to take notice of his work. Many brave paintings later, the world of art truly offered its secrets when he discovered artists on the internet who shared their processes and techniques for painting.
This saw a prolific output as Sajeev began to paint different scenes from nature while learning from the likes of Bill Alexander. He found his niche developing finesse as he created one masterpiece after another of turbaned men and graceful women in a rural setting. A visit to Benaras proved to be a turning point in his inspiration as he began to express his memory of the ghats and the aratis by the Ganga. The 2020 lockdown proved to be a boon in disguise as this allowed him to free up a large chunk of his time and create without binding timelines.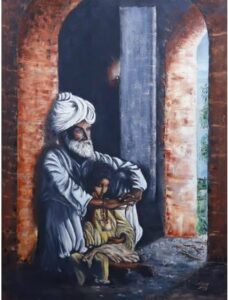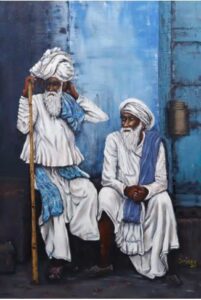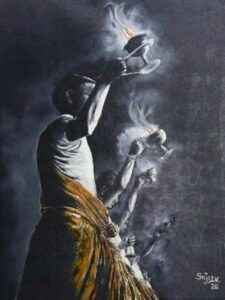 Sajeev feels, in the world of art, creativity involves aesthetic sensibilities, emotional resonance, and the gift of expression. He believes that creative thinking can be used not only in art but in all fields, be it business, his accounting profession, and even teaching. After all, Art is Life, and Life is Art.
Sajeev recently displayed his personal collection at Thakur Singh Art Gallery, Amritsar to a great response and immense appreciation. None of this would have been possible without his partner, his wife, designer Madhu Sud who herself is an accomplished artist in her field of wearable design. She guided and supported his passion with her vision and attention to detail. Sajeev's work now graces his family's homes. We can only hope that he paints so much that one day the walls will run out and we can all access his work!
Sajeev's works can be viewed on Instagram @sajeevsud.