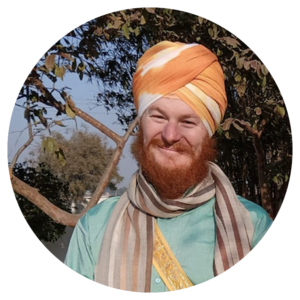 Hari Mandir Singh
Hari Mandir SIngh, an MPA graduate from the class of 1999, has made significant contributions to the 3HO community around the world. After completing his studies, he dedicated himself to working within Dharmic businesses, upholding the values he acquired at MPA. Hari Mandir has been an MPA board member since 2021.
Actively engaging in community seva, Hari Mandir participates in the preparation of langar at Guru Ram Das Ashram. He actively teaches and serves at Camp Miri Piri, a renowned program hosted worldwide by Sikh Dharma International. Hari Mandir's is a board member for the Farm Program at Hacienda Guru Ram Das Ashram, overseeing the growth and distribution of vegetables through the Khalsa Family Farm.
Above all, Hari Mandir sees serving the children as his most important mission for the future. Recognizing the significance of immersion in Indian culture, Hari Mandir believes MPA offers invaluable experiences that cannot be replicated elsewhere.